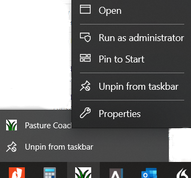 Having connection troubles?
If you are experiencing the error "Unable to connect to online database" while signing on with the desktop app:
There has been an issue reported by some users because their admin rights have changed. Pasture Coach ITC requires administrative privileges to run.
You can overcome this by right clicking on the Pasture Coach ITC icon and selecting "Run as administrator" from the context menu.
Regional growth for the last seven days
| Region | Average cover | Average growth |
| --- | --- | --- |
| Northland | 2003 | 38 |
| Hauraki | 2248 | 34 |
| Waikato | 2248 | 27 |
| Taranaki | 2050 | 22 |
| West Coast/Tasman/Marlborough | 2184 | 6 |
| Canterbury/Otago | 2259 | 15 |
| LUDF (11 Jul) | 2467 | 16 |
| OWL FARM (09 Jun) | 2183 | 27 |
| STRATFORD DEMONSTRATION FARM (02 Aug) | 1971 | 12 |
What does Pasture Coach ITC do?
You may have used Pasture Coach as one of New Zealand's best known personal computer based pasture management software.
Track and share pasture growth easily More...
Try before you buy
Download Pasture Coach, setup your farm and enter two farm walks. No obligation to buy your annual license until you enter the third set of pasture cover data. More...
Download now
Hello Pasture Coach Users
The AgSoft Solutions team know it's been a tough season with the drought or most and floods in the depth south. While the rain has come for most (but not all), grass and crop growth is going to take a while to fully rebuild. This winter is going to be tight for feed and this makes an accurate, deliverable feed plan even more important.
We can already see activity in Pasture Coach as more users return to weekly farm walks. This is a good thing but also means people have got to get their software operating again. The most common issue is a forgotten password. The solution being to go to the "sign on" page and use the "Click here" under the forgotten password section.
We have some good news for users of Pasture Coach.
We have kept the price of Pasture Coach the same for the 20/21 season at $175/farm, unlimited number of users.
Our friends at Jenquip have offered a rising plate deal at $960 for the Jenquip EC20 which is the model which talks to the Pasture Coach mobile / smart phone application. Note this represents a serious saving of $240.
Alternatively Jenquip can provide a "counter upgrade" that goes onto your old rising plate for $720.
For a Jenquip deal NZ Agriworks Ltd, Tel: +64 (0)6 323 6146, Email: sales@nzagriworks.com
A quick reminder. If you are doing your first farm walk for a while the pasture growth rates will not make sense. So enter "N" for No as you enter the walk. Your first meaningful growth rate will come on your next walk.
While it might be tough going out there success will come from measuring and planning.
Stay strong from the AgSoft Solutions Team, love your feedback please keep it coming...

Follow us on Facebook